Summary
We concluded the last part looking at the various areas in the logistics and supply chain industry which have lucrative careers. We listed out the following areas:
Supply Chain Design and Planning.
Procurement and Supply Management.
Freight Transportation.
Warehouse Design and Management.
Inventory Management and Control.
Introduction
In this article let us take a deeper look at different job roles within each of these areas and try to understand how a career path would look like. But before going there, let's do a bit of research on the jobs available using LinkedIn.

The table below lists the number of open positions on LinkedIn in entry, mid and senior level positions in each of the above categories. We can use this data to quickly arrive at some insights about where we can find jobs easily and which jobs are tough to comeby.

As you see the number of jobs available vary over specialisation. Once you get an entry there are many opportunities to grow, which is indicated by the plentitude of jobs in the mid level positions. Let us now look into each pathway and analyse the opportunity!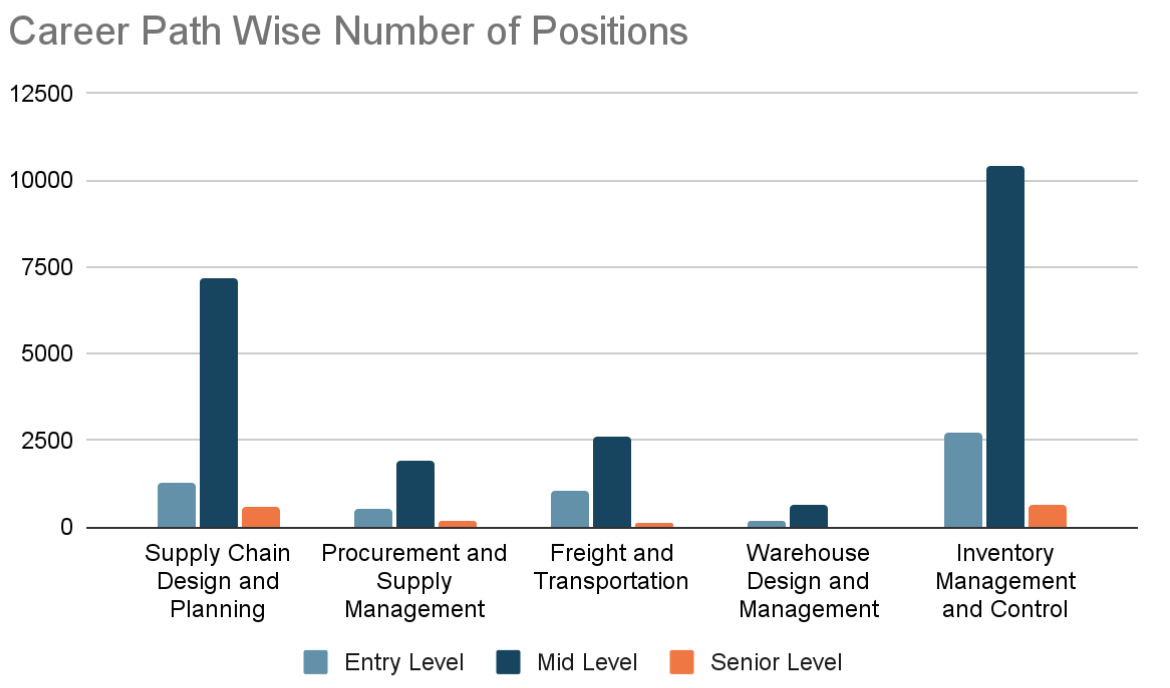 Supply Chain Design and Planning:
As the title indicates, this is a planning role. The following are some specific roles in the planning domain: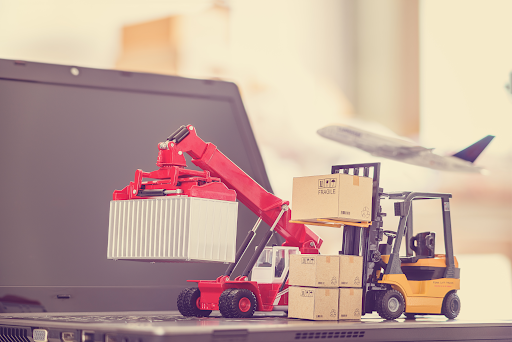 Demand Planner: This role involves future estimates and forecasts demand. This information is used to plan downstream activities like production and distribution. Accurately forecasting demand will maximise the opportunity window.

Production Planner: This role involves planning the production activities based on demand forecasts. This role ensures that a proper plan is developed and put in place to coordinate for raw materials, machine time, man power and money for fulfilling the demand.

Resource Planner: Typically this role involves coordinating human and warehouse/transportation-fleet assets to fulfil customers' orders in line with the company's service promise.
Procurement and Supply Management
Typically the roles in this area are related to the procurement or buying function in the organisation. It may involve procurement of raw materials or machinery and other equipment for use in the production process. Some typical roles are:

Sourcing Manager: Typically a senior management role which involved developing a procurement strategy with cost minimization and quality maximisation as goals.

Procurement Manager: A middle management role which is accountable for execution of the strategy developed by the strategic sourcing manager. Handling RFPs, evaluating proposals and quotes, vendor selection, vendor training and quality management are handled by the procurement manager.

Category Manager: Usually accountable for a specific set of raw materials which are purchased on a continuous basis from selected vendors. This role involved coordinating the in bound logistics, clearing purchase orders and coordinating with inventory department to understand requirements and placing routine purchase orders.
Freight and Transportation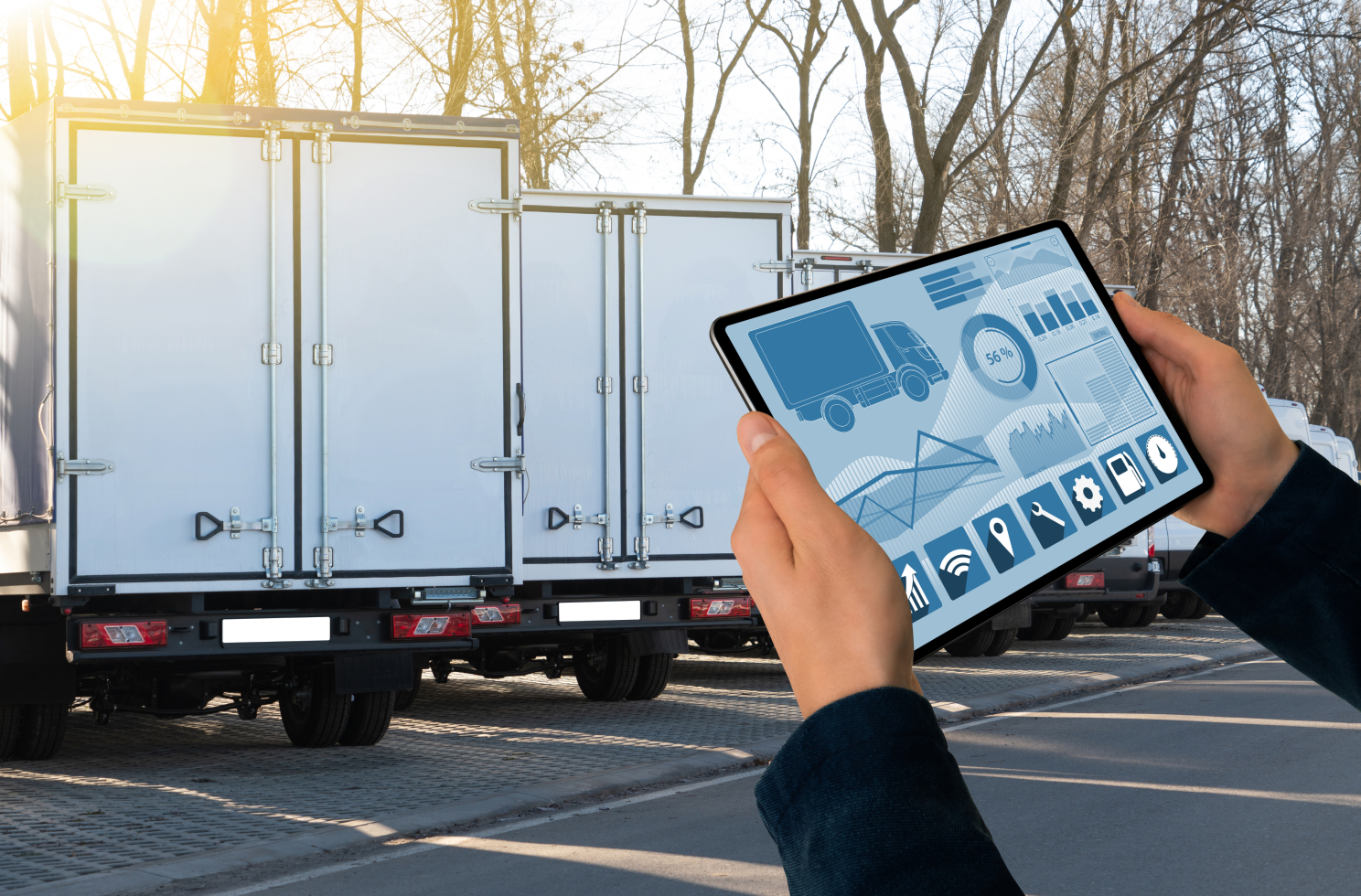 This is an area that deals with moving the goods into and out of the organisation. That is to say transportation and freight management is associated with both Inbound and Outbound Logistics of the organisation. Typical roles include:

Logistics Director: Its a top position that involves developing the strategy to efficiently manage the logistics of the entire organisation with a goal of minimising cost, maximising capacity utilisation of the vehicles, increasing throughput and supporting production to scale up and down to match demand patterns.

Logistics Manager: Assists the logistics director to execute the strategy. Typically responsible for day to day operational control of both inbound and outbound logistics. Fleet mnagement, fuel management, maintenance, capacity monitoring, tracking and tracing of the fleet, etc., are a part of this job description.

Reverse Logistics Manager: Typically this role is accountable for managing the returns policy of the organisation. Planning the returns, optimising the reverse logistics process, tracking and tracing the parcels, ensuring proper actions for fulfilment post return is the forte of this role.
Warehouse Design and Management
A product may typically pass through several warehouses before reaching the customer. Each warehouse takes time to pick, pack and move the product towards its ultimate destination. Managing the warehouse such that the whole logistics operation is smoothly carried out, needs specific skills. Typical roles in this area are:

Warehouse Director: Usually, this role is prominent in organisations that have several warehouses spread across a large geography. Locating the warehouses, Ensuring smooth logistics flow, minimising cost of operations, minimising time to pick and pack are some goals to be accomplished in this role.

Warehouse Manager: This role assists the warehouse director in executing the strategy. Day to day operational control and overall efficiency of a given warehouse is the accountability of this role.

Warehouse Administrator: This is possibly an entry level role that will be accountable to ensure day to day operations are carried out as per plan and instructions of the warehouse manager. Documentation and reporting daily operations are under the purview of the administrator.
Inventory Control and Management
Managing the inventory of raw materials, work in progress and finished products is a major responsibility. This area is a bridge between planning, procurement, warehousing and logistics roles and is accountable for visibility of inventory across the entire organisation and supply chain. Some specific roles in this area are:

Inventory Manager: In this role, one would be expected to develop a system for storing raw materials, work in progress and finished products in such a way that they are readily available for production and distribution. Knowledge of strategic initiatives like Just In Time and how to implement such systems is essential for this role.

Category Manager: In large organisations which deal with a huge variety of SKUs, such as online retail stores and large format retail chains, managers would be required to take care of a specific category of products such as cosmetics, food and grocery, etc. The role is more or less like inventory manager but the scope would be limited to a single category. Several category managers may report to the inventory manager.

Inventory Controller: This is more of a control function that specifically deals with issues and receipts of inventory, maintaining minimum stock levels, alerting category or inventory managers of deviations from plans, raising purchase orders and doing other documentation work. Usually, this is an entry level role.
Conclusion:
By now you have an idea of what a career in the logistics and supply chain industry might look like. I have tried to illustrate entry level, mid level and top level jobs in each category so that you can get some clarity on the type of path you might take in each area. Based on your interest and expertise, it is possible to take cross entry from one area to another. All the best!
In case if you have missed first part, here is the link: