Summary
There has been a lot of investor attention in ePharmacy apps lately. with visions crossing over $ 150 Mn. The Global ePharmacy Market size is pegged at $49.72 Bn in 2018 and is projected to reach $ 177.79 Billion by 2026.
Search trends indicate that worldwide consumer interest in ePharmacies and medicine delivery peaked as each pandemic wave hit. However, there seems to be a huge gap between consumer interest and delivery capabilities of epharmacy apps.
Understanding the delivery challenges in ePharmacy will help in building a robust ePharmacy business model that helps build a reliable and sustainable brand.
ePharmacy apps and their importance:
There has been a lot of investor attention in ePharmacy apps lately. Tenovia, a Bangalore based eCommerce and digital performance agency reported in Septermber 2020 that a significant amount of external investments with visions crossing over $ 150 Mn were afoot.

An EY Report on Evolution of Teleconsultation and ePharmacies around the same time reports that the top 4 players namely, 1mg, Medlife, Netmeds and PharmEasy acquired more than 12 companies to enhance their brand offering and online presence.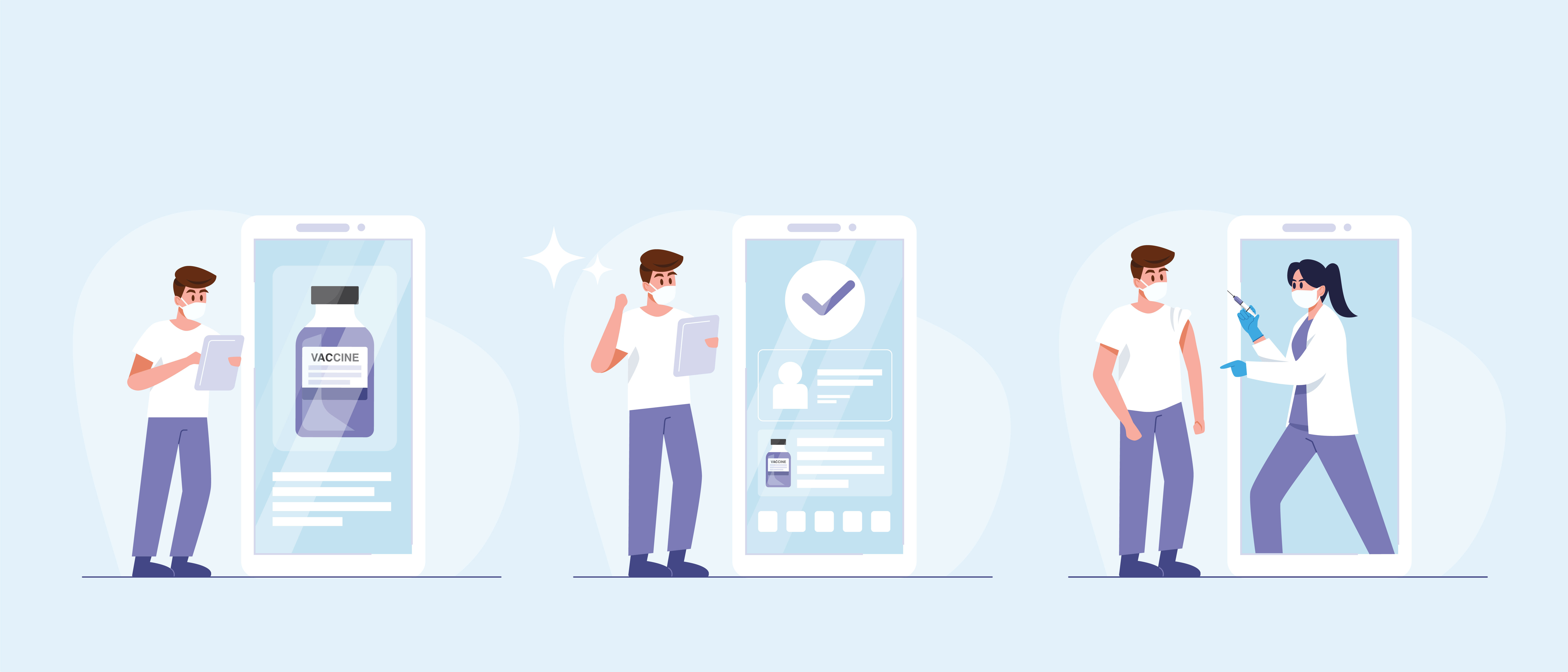 Global ePharmacy market size and opportunity
A Fortune Business Insights report pegs the global ePharmacy Market size at USD 49.72 Bn in 2018 and is projected to reach USD 177.79 Billion by 2026.
ePharmacy market in India
According to Frost & Sullivan in a recent white paper on e-pharmacies in India - the market in India is estimated to be around $512 Million (Around ₹ 3,500 crore) in 2018 and is estimated to grow at a CAGR for 63% to reach US $ 3,657 million (~₹ 25,000 crore) by 2022.

It is also estimated that ePharmacy could account for 15%-20% of the total pharma sales in India. Over the next 10 years.
Consumer interest in the online medicine home delivery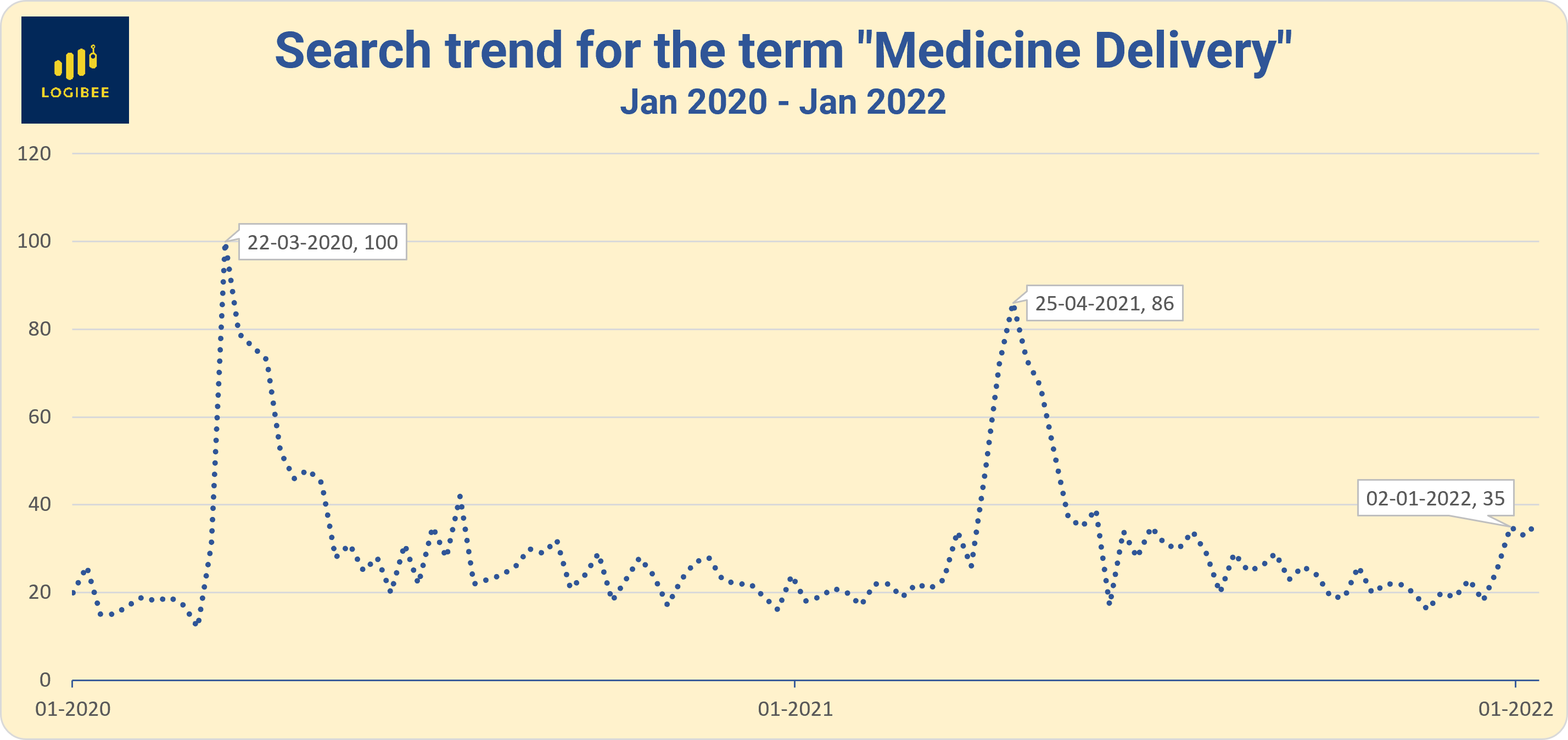 Above search trends indicate that worldwide consumer interest in e pharmacies and medicine delivery peaked as the pandemic waves hit. We can also see the same trend is expected as the new 'omicron' wave is doing its rounds across the globe. There are two conclusions that are noteworthy:
Each peak has brought more and more customers online for medicine delivery.
Each surge would have facilitated discovery of apps that would serve the needs of the consumers.
However, there seems to be a huge gap between consumer interest and delivery capabilities of epharmacy apps. A survey conducted around April 2020 (around the first peak period in the chart) reported that while 77% consumers found medicines in their local apps, only 15% consumers could find what they want through ePharmacy apps.

This huge gap is because of several challenges in the medicine delivery framework. Understanding them is the key to build a great ePharmacy business model.
Top 5 Delivery Challenges of ePharmacy apps
Here are the top 6 challenges in delivering medicines that ePharmacy apps face. Knowing about them allows you to ensure you can build a sound ePharmacy business models that deliver the right medicine at the right time.
Challenge 1: Digitization of prescriptions:
Many doctors use manually written prescriptions. Understanding and filling these prescriptions is a time consuming task. Even though many ePharmacy apps in India allow uploading snapshots of prescriptions, the scope for human error is high. Indian Government has been thinking about a way out of this situation since 2019, an article from The Print reports.
Challenge 2:Faster Delivery ETAs
Customers are lazy to plan and expect their orders to be filled faster. If the chart below from our content research team is any indication, the trend for same day delivery can be considered as in vogue.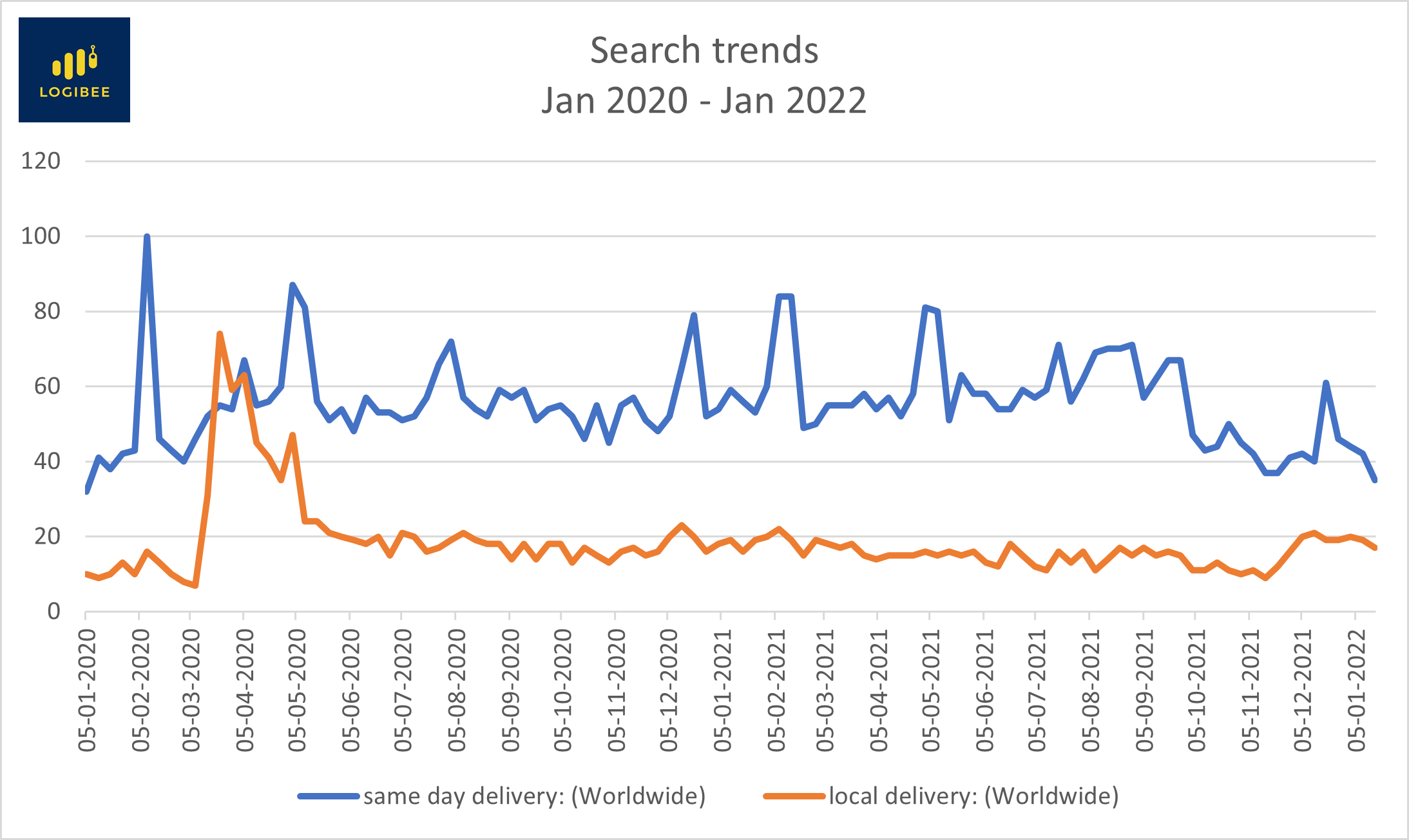 Logibee, our AI powered, all in one delivery management platform can help you in setting up same day deliveries for your ePharmacy business. Here's a guide we prepared some time ago. Hope this helps you to think about how to enable same day deliveries in your ePharmacy business.
Challenge 3: No Bar coding at manufacturer level
When a manufacturer puts a barcode on a strip of medicine or on the package of medicines, it becomes a standard across the entire supply chain. This not only helps in creating visibility, but can help in reducing paper work, lowering the entire supply chain's carbon footprint. Read this Interesting article on use cases of QR Codes on medicines.
Challenge 4: Live Tracking
A recent fourkites survey estimates that losses due to lack of visibility in cold supply chains transporting vaccines can be as high as $341 Bn. Further, the same report notes that more than 50% respondents said that they are not happy with the existing visibility solutions and want to invest in improved visibility measures.

Even in downstream logistics processes like last mile deliveries live tracking is catching up. Once orders are placed customers are not only curious, but also anxious of when their package is going to arrive.

Having a personalized delivery tracking page where customers can get live location of their parcel from when it is out for delivery, helps enhance customer experience and builds trust and loyalty in the long run.
Challenge 5: Returns are essential for relationships
Wrongly filling prescriptions can be fatal. Customers are usually careful and in case they find out that wrong medicines are delivered, returns become essential. Also, accepting unused strips that are within the expiration date can help customers save some money and drive them to be more loyal.

Managing returns without proper planning can be expensive and wipe away margins. With advanced delivery management software, one can implement a returns policy that balances customer interests with business interests.
Conclusion:
While there is a surging demand for ePharmacy apps and online medicine purchases are increasing, challenges in the delivery space are throwing the proverbial spanner in the works. Unless one partners with a smart all in one delivery management platform that can help manage the delivery challenges, the online medicine deliveries will continue to face inefficiencies both in cost and time.