Summary
Same Day Delivery is no longer a buzz word or limited to only big retailers. It has become a competitive necessity
Enabling same day delivery requires a significant amount of planning and testing. In this blog we discuss a detailed 7 step process to enable same day delivery for your business.
For same day delivery to be sustainable it must bring in new customers and also innovatively cut costs. Otherwise it may eat away into margins making your business vulnerable.
Same Day Delivery
Same day delivery is the new holy grail of retail. If you can offer same day deliveries to your customers, you can expect a lot of new business. Research carried out in various parts of the world has shown that sales can be improved by offering free or same day shipping. Globally online shoppers have indicated that they would add more items to the cart to take advantage of same day deliveries.

A common myth is that only big retailers, ecommerce giants like Amazon or Flipkart or premium D2C brands can do same day deliveries. However, with proper planning and testing, every business can enable same day deliveries for their customers. The question is how?

This is why we have put together a blog that highlights the different processes and technologies that you need to take advantage of same day delivery. This will not only help you understand how to enable same day deliveries but also help you to take advantage of them to grow your business.

This is what we will be covering in this blog/article
Why is same day delivery important?
Who should offer same day delivery?
How to implement same day delivery in Your Business?
How to sustain and improve same day delivery?
Why is Same Day Delivery Important?
Over 40% of online shoppers belong to Gen Z. This cohort, born after 1998 is a digital native cohort and is characterized by a strong motivation for instant gratification. In other words these shoppers do not want to wait long after they place an order.

When serving such a customer base, shorter delivery times become a competitive necessity. Also consider the four same day delivery metrics in the picture below: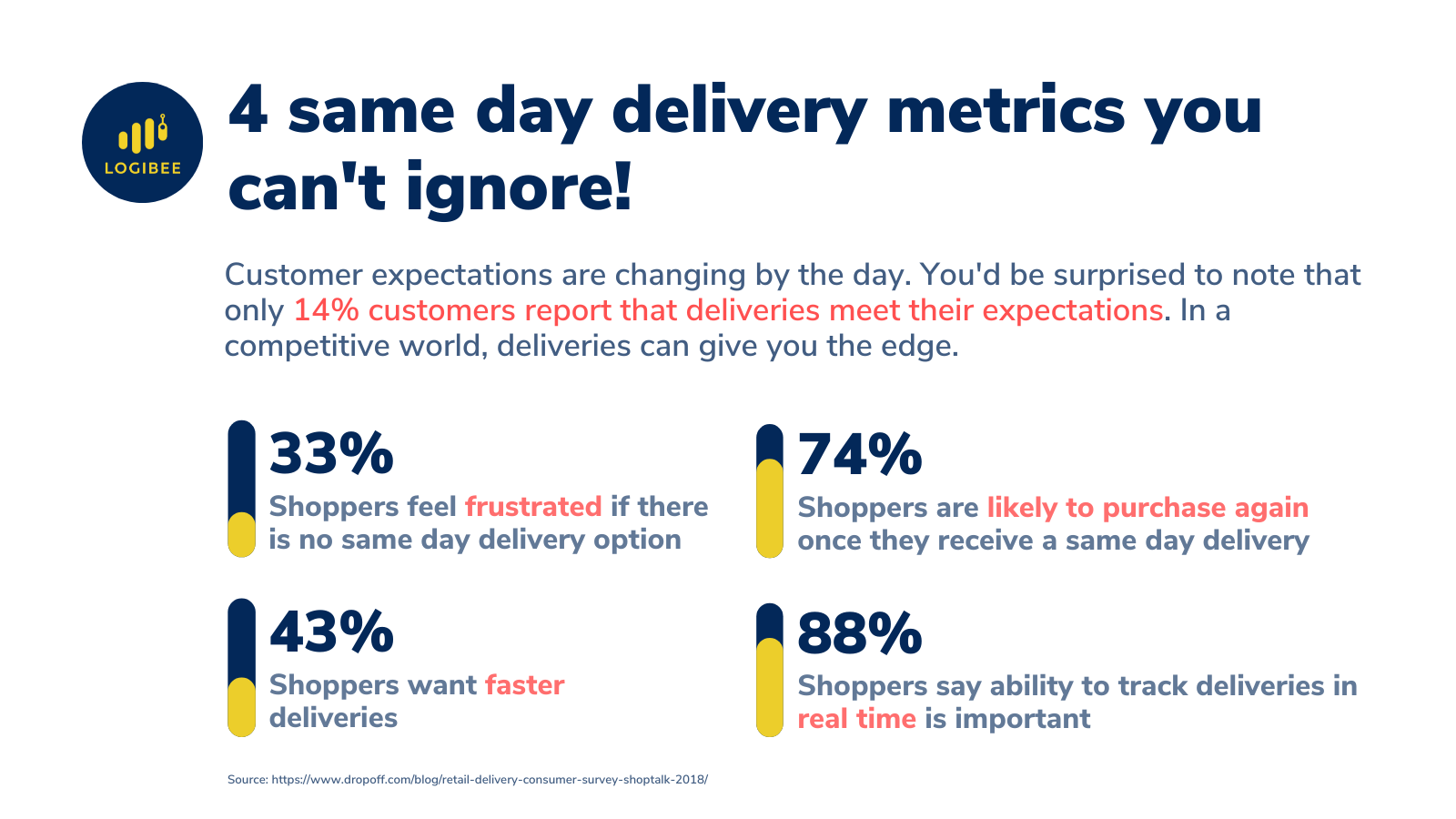 So, if you are an ecommerce or a D2C brand, it makes total sense to look into how you can enable your business to handle same day deliveries.
Who should offer same day delivery?
Same day deliveries in amazon or flipkart or any branded ecommerce portal are common. Most restaurants today offer same day deliveries which is understandable.

However, same day delivery of gifts and same day delivery of medicines is also fast becoming a standard. Other businesses such as grocery, and fashion are actively exploring same day deliveries.

The two most important criteria to evaluate if your business can offer same day delivery are
Is the product perishable?
Is it needed for emergencies or convenience?
Food, Vegetables, Grocery, Medicine,Gifts and Apparel seem to be the most ripe. But more or less any business in retail that wants to increase customer convenience and delight can think of same day delivery as an option.
How to plan and execute same day deliveries?
Optimized and scalable same day delivery model needs a lot of planning and testing. Enabling same day deliveries is a 7 step process. It begins with location specific demand assessment and moves through to implementation and scaling. Here are the seven steps.
Decide where you want to do same day deliveries

Same day delivery planning and modeling is highly location centric. The heart of this hyperlocal model is a fulfilment center. This can be a physical retail outlet that can hold inventory, a dark store or even a 3PL's warehouse which can handle your inventory.

If you are a single location retailer, then it's simple to begin same day deliveries in a radius around your store. If you want to expand your reach you can think of either a dark store or a 3PL fulfilment center. These are the easiest options because you won't spend on creating another physical store.

If you are a multi location retail chain, then you can offer same day delivery within a radius around each of your stores. But we suggest you to pick only a few locations where you think same day deliveries will be valued by your customers.

If you are a completely online store with no offline location, then you may choose to offer same day deliveries in areas where your high value customers are concentrated.

The bottom line: Think about your reach and resources. Based on that scale, think about fulfilment centers and choose locations which might be profitable from your business point of view.

Choose a pilot area to test your same day delivery model

A pilot is required to ensure you get everything right before you scale your model to include more locations. Even if you have resources to start same day delivery in multiple locations, it is best to pick one location as a pilot.

A pilot allows you to collect data of on ground realities, verify your assumptions and highlight your strengths and weaknesses. This will help you to develop an optimal and scalable solution.

Choose the location which presents a good deal of challenges and the greatest opportunity. When you solve for complex challenges, your optimization and scaling will be more valuable.

Also, think if you have to hire separately for your pilot. This may be needed so that your existing staff is not disturbed from meeting your current fulfilment.

Forecast location specific demand

Since same day delivery depends on the effectiveness and efficiency of the fulfilment centers, it'd be useful if you can get location specific forecasts. That way you will have accurate inventory for each fulfilment center. Use the location specific demand forecasting model to forecast demand for pilot location. If you have historical data which can be classified location wise, it will help you to build a location centric forecasting model. There are many AI powered tools with advanced forecasting models that can help you nail this problem.

See Also: The Best Demand Forecasting Software for 2022

Redesign your fulfilment process to come up with a new fulfilment model

Every step in your fulfilment process may change because you are now delivering differently. Take a look at what needs to change. Usually, the changes you would bring about will all be in the direction of increasing the speed of the process. You can automate some processes, bring in new technologies like RFID and IoT to improve your warehousing and inventory management.
There are two options you can explore to scale your model.

Dark Stores: They are like retail stores but don't take in customers. Think of them as micro warehouses which can handle limited inventory and service a small geography. With limited space, it is easy to set up, doesn't need too much technology or a highly trained staff.
3PL supported fulfilment centers: Many 3PLs offer to handle your inventory and delivery. This option is hassle-free as your entire fulfilment operation is handled by the 3PL who already has significant investment in inventory, warehouse and delivery management systems. However, if you are keen on having a control over the delivery experience of the customer and branding opportunities of last mile delivery, then this model may not be suited for you.

Train your staff adequately

With all the changes you are bringing in your fulfilment process, your staff may require additional training on how to use the new technology.

A well motivated staff that aligns with your vision of same day delivery and ready for creating customer delight is a huge positive.

Bottom line: Talk to your team. Inspire them. Train them on the hard skills. Reward and incentivize positive behavior. Get your team to perform!

Implement your plan

Once you have made preparations, it is time to get your hands dirty. First things first, get the word out. If no one knows about your same day deliveries, no one is going to care.

Make changes to your website and landing pages. Take help from hyperlocal apps to spread the word around. Use your socials to make announcements. Send emails to your database. Offer something nice in return for opting same day delivery. In short, get the buzz going.

Start your operations as per plan. Track and monitor. Collect data of the on ground execution reality with what you have planned. Fine tune your process for optimal performanc

Analyze and Scale your model

On completion of the pilot, analyze how the pilot went. Ask some of these questions:

Did you see increased visits to your site, lesser cart abandonment rates, higher revenue per order?
Was your demand forecast accurate enough? How many out of stock situations did you face and for which items? How much of excess inventory is left and for which items?
How did your fulfilment process work? What is the average time from order to delivery? How many delivery attempts were required per customer? Which on ground situations disrupted the delivery process? What is their frequency and likelihood of occurrence?
How did the fleet perform? How much fuel was consumed? How much vehicle capacity was used and/or unused?
Once you have answers for these questions, then develop standards, KPIs and Metrics for optimal performance. You are now capable of having an optimal resource plan. Based on your vision and your capacity to invest, you are now ready to scale.
How to sustain and improve same day delivery?
Same day delivery is a great customer experience and a great way for businesses to stand out against the competition. But one of the concerns is how sustainable is your same day delivery model? For this you must keep analyzing the impact same day delivery is having on your costs and revenues.

Unless same day deliveries are bringing new customers, offering it as a free service can erode margins! Also, you must constantly think of ways to reduce your costs and overheads. Cost reduction is in your hands. Thinking of innovative ways to cut costs and improve margins is perhaps the best way to make same day deliveries sustainable.
Conclusion
Implementing same day delivery in your business can help your business grow exponentially. Every business big or small can offer same day deliveries. It involves a significant amount of planning and testing to enable same day deliveries. The heart of the same day delivery is a fulfilment center. Optimizing the fulfilment and delivery operations of a fulfilment center is a continuous process. For same day deliveries to be sustainable, it must bring in new customers and be able to innovatively cut costs. Then it can be a competitive advantage.