Summary
Q Commerce business is booming. It is expected to touch a size of $5 Bn in the next five years with growth of 10-15 times the current size.
Consumer drive for instant gratification, Investor enthusiasm and technological innovations will fuel the growth of Q Commerce in the coming years.
You can kick start your Q Commerce brand with 5 simple steps covered in this blog. Logibee supports Q Commerce actively and has several features to enable Q Commerce for all sizes of businesses.
Introduction to Q Commerce
Quick Commerce is a business that is fast paced, where every day is a new opportunity to sell, achieve and grow. With the right strategy and knowledge, any business can thrive in this very competitive industry. This blog covers the following topic:
What is Q Commerce?
Q Commerce Market Size
3 Trends that will influence Q commerce growth in 2022
5 steps to start a Q Commerce Delivery Business
What is Q Commerce?
Q Commerce, sometimes known as rapid delivery, is a delivery model having an ETA between 10 and 30 minutes.Usually, Q Commerce businesses operate through a network of dark stores or mini warehouses and hyper local delivery operations that cover a small geography.
Q Commerce Market Size
Rapid growth has been noticed in the Q Commerce sector across the globe. Redseer's August report estimated that the current size of the Q Commerce segment is about $300Mn and is expected to grow 10 to 15 times over the next five years to touch $5 Billion.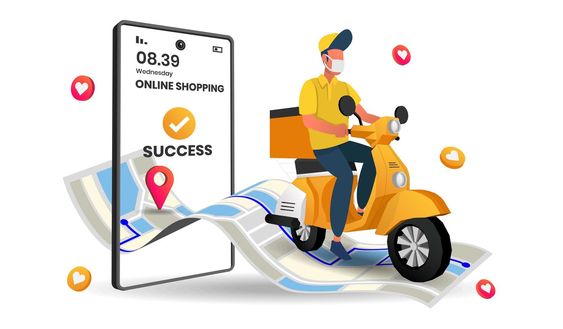 The 3 most important trends that will influence Q Commerce growth in 2022.
Q commerce is not a fad. It is here to stay. There are several indicators that show this. Let us understand them first.
Trend # 1: Q commerce segment will grow because of consumer preference for instant gratification
Global eCommerce sales grew by 14.3% in 2021. At this rate, the total eCommerce market size is expected to touch $6.54Tn in 2022. Further, the online grocery segment has seen a growth of around 40% in the last year. Studies have shown that 52% of the consumers who shifted to digital grocery shopping said that they won't go back to in-store shopping once the pandemic is over. These trends will fuel Q Commerce market growth.

See Also: 21 Ultimate E Commerce Growth Statistics to Keep Us Wondering in 2021
Trend#2: Investor community will enthusiastically fund Q Commerce startups
In the past year, 5 out of 10 Q Commerce companies in Europe have raised close to $2 Bn. US Based GoPuff raised a total of $3.4 Bn, 75% of which was in the last 12 months. Even in India, apart from established players like Grofers, Dunzo, BigBasket, etc., new startups like Satvacart and Zepto raised significant funding in 2021. This investor enthusiasm is likely to continue over the next few years.
Trend#3: Technology innovation will support faster growth of the Q Commerce Model
Because of the growth the inefficiencies of the last mile will be magnified. However, increased pace of digitization will allow technological innovation at a faster pace.

A McKinsey report revealed that in online delivery space, a decade's worth of digitization has happened in just 8 weeks. Companies like Spice Jet and Swiggy have started experimenting with drone deliveries for food, medicines and essential items. These trends will continue to push the Q Commerce adoption rates.


How to build your Q Commerce brand in 2022
With this race to conquer the last mile in the air, both eCommerce players and offline stores are now planning to start with their own hyperlocal rapid deliveries also known as Q Commerce. So, Logibee has developed a guide for the same.
Step # 1: Demand Forecasting and Inventory Planning
Q Commerce is built on the backbone of darkstores. Darkstores are mini warehouses which typically can support anything between 500-2000 SKUs. It is critical to determine which SKUs to stock in which location.

AI Based demand forecasting tools allow you to plan this inventory location wise. This optimization helps you meet consumer demand effectively with minimal inventory.
Step # 2: Locate your dark store
Depending on what you are promising your customers in terms of ETA, choose locations of darkstores. For example, if you are promising a 10 minute delivery ETA, your darkstore must be located in such a way that picking, packing and delivery can happen under 10 minutes within that locale.
Step # 3: Setting up delivery operations
Now is the critical part of setting up your delivery operations. Select a delivery management software like Logibee, which can give you the operational capability to do on time deliveries and real time visibility into the entire delivery journey.

For example, Logibee can ensure that each delivery trip begins by acknowledging the parcels. Once the trip starts, you can track the live location of the driver and complete the delivery with e-proof of delivery.

Logibee's real time operations dashboards give minute to minute updates on all your deliveries. With exception management features, you can manage any incident that goes off track and ensure to take proactive action to prevent delivery failure risk.
Step # 4: Develop a Q Commerce portal or App
With support from marketplaces like Shopify, build an app that lists your SKU's location wise and allows customers to place orders. Ensure a visually enticing UI and a smooth user experience.
Step # 5: Launch your Q Commerce brand
Announce your launch with both off-line and on-line media and allow people to test your service with minimum effort. Give your customers the opportunity to share their experience on social media. You can send an SMS or an In App Notification for them to tweet or instagram their first experience or best experience.
Conclusion:
2022 is a year that will see quick commerce businesses explode in growth, and the opportunity to be a part of it is exciting. With our step by step guide, you know what exactly to do. Logibee would be most happy to assist you in setting up your Q Commerce brand and helping you achieve logistics excellence. Connect with us today to know how we can work together!
References